Updated: December 05, 2019
Ultimate Guide: 12 Best Ice Cream Shops In Tokyo!
Tokyo
This article will introduce some of the best ice cream stands and shops in Tokyo!
Feel free to follow favy!
coisof (Ginza)
Coisof is famous for its beautiful deluxe parfaits served with a liqueur sauce.

The black one in the picture is made with domestic sesame oil, bamboo charcoal, and black cocoa powder, giving it a pitch-black colour and a refined rich taste. The white one is made with premium quality soft serve Hokkaido milk ice cream and delicious fresh domestic strawberries.

Paired with the perfect liqueur sauce that is made to enhance the taste and fragrance of each, these are truly some delectable high-end parfaits! You can have them with (¥1,200) or without (¥1,000) the liqueur sauce.

They have seasonal specials as well!
GOMAYA KUKI (Harajuku/Omotesando)
GOMAYA KUKI is located 4 minutes away from Omotesando station. It is a rather new ice cream store that open in March 2017, and serves the world's richest sesame ice cream.
A cup with one scoop of black sesame and white sesame ice cream is ¥500. There are 6 different flavors of sesame ice cream in total. This rich sesame ice cream tastes like no other ice cream you have ever tasted. It is definitely worth a try for a real taste of Japan.
Coconut Glen's (Harajuku/Omotesando)
Coconut Glen's, also in the Omotesando area, serves ice cream that is made from organic coconut milk! Every single flavour of ice cream is 100% vegan.

If for any reason you think vegan ice cream is bland, you'll be blown away by the rich taste of Coconut Glen's ice cream that comes in many delectable flavours made from the best natural ingredients.

Order three scoops (¥700) or more of the ice cream of your choice and your order is served to you in an actual coconut shell. One scoop is ¥500 and five scoops are ¥900.
MiLKs (Ebisu)
A minute walk from Ebisu Station, The extremely photogenic soft cream shop MiLKs is located on the 5th floor of Granbell Ebisibashi building.

First of all, the super modern interior is just amazing! Swings on the counter and also some private rooms for 4 people to enjoy!
We are so sorry if you are not over 20 years old.

MiLKs specialty menu "MiLKs Puchi" is a soft twist ice cream with a combination of 2 kinds of liqueur you like. You also get a cup of tea or coffee with some additional toppings for your soft twist in ¥1,280.
Nanaya (Asakusa)
Nanaya Suzukien is located 8 minutes away from Asakusa station, and is known as the world's richest matcha ice cream. It is a very popular store among matcha lovers, as you can choose the richness of the matcha ice cream.
The matcha ice cream flavors include matcha daifuku (mochi), mathca cookie, matcha chocolate, and matcha gelato. For the matcha gelato, you can choose the richness from 1-7, with 1 being the least dense and 7 being the most.

Just like this picture, it is recommended to combine a less dense matcha ice cream with a richer one, so you can compare the two tastes!
Japanese Ice Ouca (Ebisu)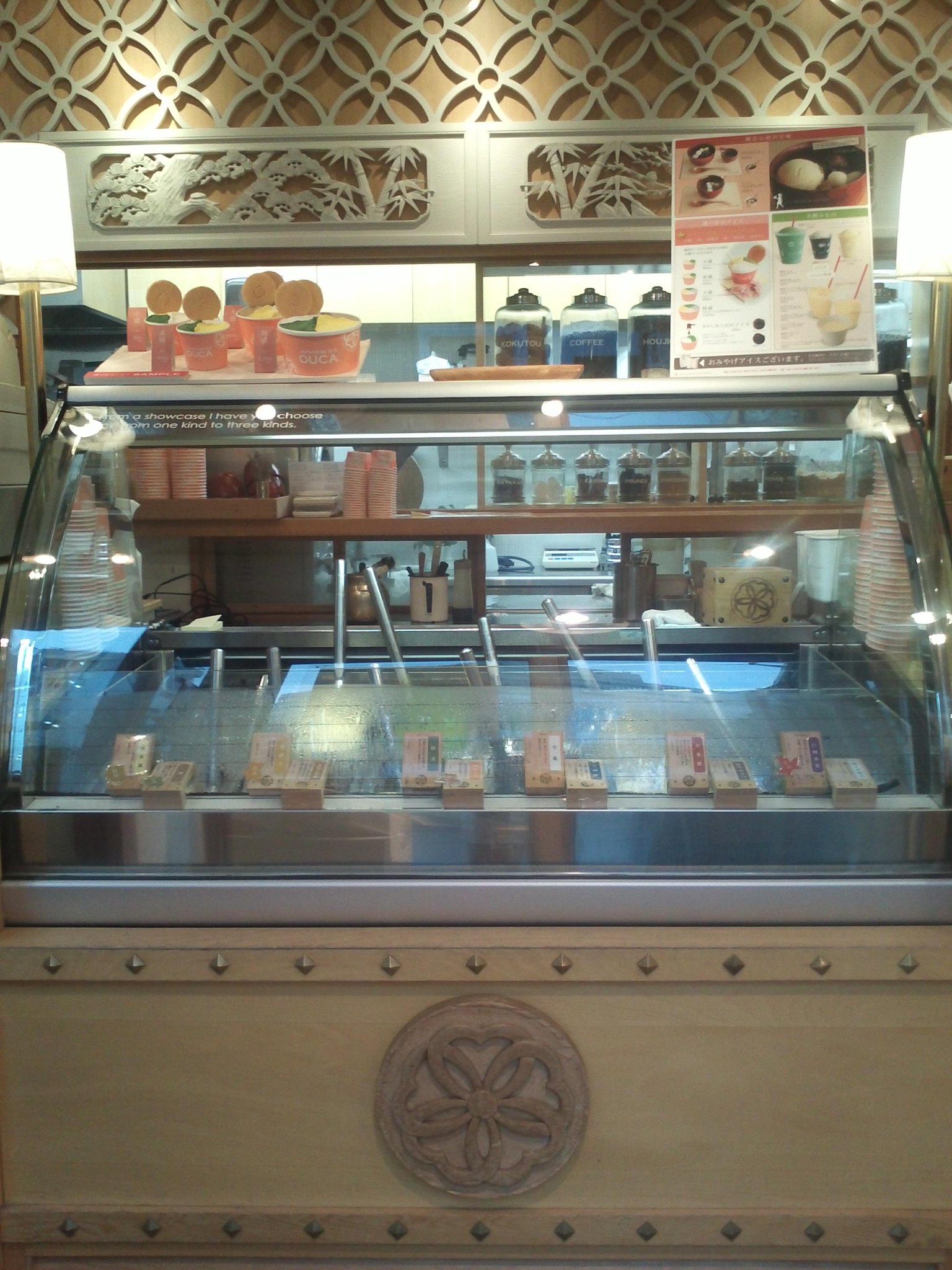 This store is located 2 minutes away from Ebisu station. The ice cream flavors change seasonally, but they have Japanese flavors like matcha ice cream and brown sugar soybean ice cream (kuromitsu kinako), as well as other original flavors!
You can choose 3-4 flavors and also the size of the cup. They also have mochi, matcha milkshakes and other Japanese desserts that you can enjoy!
Sadaharu AOKI (Shibuya)
Patisserie Sadaharu AOKI Paris is located inside Shibuya Hikarie department store, which is directly connected to Shibuya station. Although they mainly sell cakes and macaroons, they also have ice cream!
As Sadaharu Aoki is a Japanese patissier that studied in France, he incorporates Japanese flavours like matcha in his desserts. This is a matcha ice cream that comes with a macaroon.
Daily Chico (Nakano)
Daily Chico is an ice cream stand located in Nakano Broadway, which is a 5 minute walk from Nakano station. They have various flavors and sizes that you can choose from.
But, for those who cannot choose one flavor, you can get this mega ice cream that comes with 8 flavors: soda, grape, banana, matcha, chocolate, milk, coffee and strawberry!

Because of its shockingly huge size and its colorful, cute looks, it has been very popular among young people and tourists!
SILKREAM (Shibuya)
Silkream is located 5 minutes away from Shibuya station Hachiko exit, and it is a cafe but also an ice cream stand. They serve cremia ice cream, which is a popular Japanese ice cream that is served in many stores.
If you choose to take out your ice cream, you can only choose this milk cremia ice cream. However, if you eat inside you can eat cremia ice cream parfaits, affogato and other dessert dishes!
Eddy's Ice Cream (Harajuku)
Eddy's Ice Cream is 3 minutes away from Meiji Jingumae station.
This shop is colored with pink everywhere, and even its ice cream has pink ornaments. It is popular for its cute colorful treats that are so Instagram-worthy!
The ice cream above is called "unicorn". You can order a pre-decorated ice cream or you can decorate your ice cream on your own with various toppings. This photogenic ice cream will definitely make you look kawaii.
Paria (Aoyama)
Pariya is a cafe but also serves ice cream. This shop is five minutes away from Omotesando Station. It is famous for both ice cream and gelato.
On "Gelato Day" decided randomly, if you order a double scoop gelato, the shop will serve you one more scoop for free, so be sure to be there on Gelato day!
Far East Bazaar
This shop is just a few minutes away from Shibuya station. This place serves twelve different flavors of sorbet with many toppings.
The unique part about this gelato is that it doesn't contain sugar or chemical sweeteners. Instead, the sweetness of the gelato comes from its fruits and honey, so the sweetness comes from natural ingredients only.
Lastly...
Did you find any ice cream that you want to try? Many ice cream stands in Tokyo serve unique ice creams that you can only enjoy in Tokyo. Perhaps this article will be useful when going on an ice cream adventure in Tokyo!

If you have a sweet tooth like we do, you might also be interested in these pancake cafes in Tokyo.
Restaurants Mentioned in this Article